Industrial Manufacturer Website Design and SEO—Illinois Blower
Industrial Manufacturer Website Design and SEO—Illinois Blower
Illinois Blower manufactures high-quality, custom industrial fans and blowers. Their digital messaging, however, lacked the powerful messaging they needed to back up their brand. Illinois Blower needed to take their website and tactical marketing to a new level. They needed to ensure their messaging was clear, consistent, powerful and correctly communicated their differences, and was able to educate and influence their diverse audience.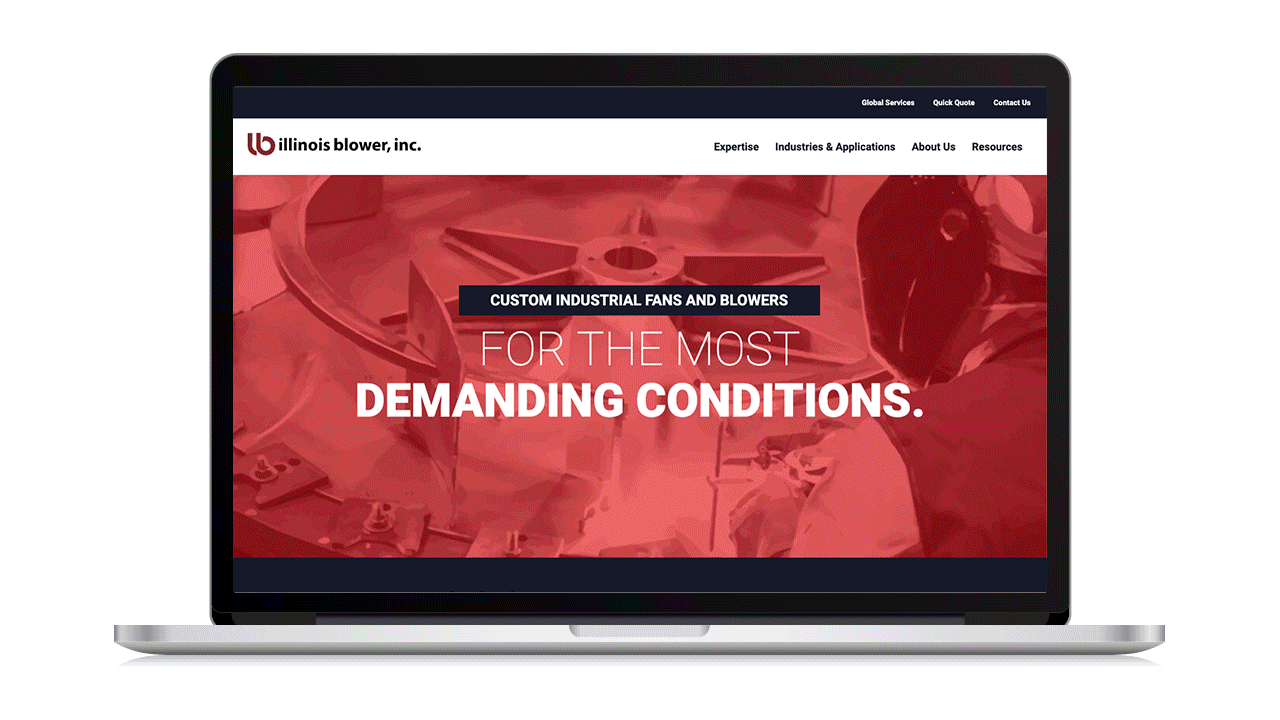 Starting with a detailed brand platform, the Pepper Group team analyzed the competition and interviewed customers. We defined their brand promise—custom industrial fans and blowers, skillfully engineered, and powerfully built. The more we researched, the more we understood how much their clients valued Illinois Blower products, and how valuable their custom solutions are. These aren't everyday blowers, but ones designed to overcome the most challenging applications in the most demanding conditions. They must be built to exacting standards and meet strict requirements.
We built a website embracing Illinois Blower's custom capabilities and unique ability to rise to demands—both demanding conditions, and demanding customer needs. Rather than get mired into technical jargon and diagrams, we relied on bold fonts and large photos wrapped around a tonality of leadership and expertise.
Additionally, we looked at their digital marketing approach. Our efforts included additional research to best predict optimal search terms using industry language and the ideals that make Illinois Blower unique as a company. In our keyword analysis, we took into account keyword density, search volume and other key metrics.
The new Illinois Blower website has elevated the company's online image, enhanced their credibility with new prospects and energized their staff. Illinois Blower can also now be seen at the top of Google search results when prompted by connective keywords. Their search numbers, including impressions and CTR (Click Through Rate) are particularly high for their industry, and we're continuously optimizing the campaign to generate increasingly better results.
These efforts are the first steps in an ongoing growth initiative for the company and Pepper Group is proud to be working with such a great organization.
Welcome to Pepper Group's business propulsion laboratories.