Celebrating Our Core Values: Be Smarter Tomorrow
At Pepper Group, our core values remind us of what's most important. They help us remember when it's time to take a deep breath, and when it's time to get down to business; how to support each other and our clients; and the value of teamwork and initiative.
In this series, we're asking Peppers to share a story that demonstrates one of our core values.
Today's guest is Tim, Pepper Group Founder.
Tim's Core Value: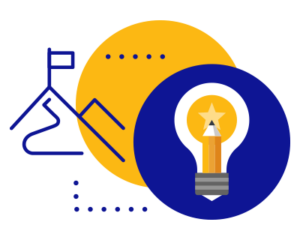 Be Smarter Tomorrow
We may look ordinary in daylight, but watch out. Our education and diverse skills are dangerous when they collide, and we're always learning more.
I'm so glad that I get to finish our series on Core Values with Be Smarter Tomorrow! Our Core Values were designed to guide our employees in a craft that is highly creative when it comes to both strategy and content.
We screen new Pepper Group applicants for their curiosity and enthusiasm for learning new things. We could have just said that We Strive to Learn, or we're a Learning Organization, but I love the phrasing of Be Smarter Tomorrow. It implies that there is a responsibility to constantly be learning.
It's a contract between the agency and employee. The agency can supply funding and resources that are general or specific to roles, like our monthly Learning Lunches. On the flip side, the employee has a lot of ways to proactively increase their knowledge through research, online training, certifications, etc.
We also never forget to celebrate acts of learning. Over 20 years ago, we started a peer-to-peer education award called The Higgie. It's a traveling trophy that gets passed along each week.
Company-wide, we are tasked with teaching the holder of The Higgie something during the week. It could be anything at all, the spirit of the teaching is that we all know things that could be helpful, and we benefit from sharing these nuggets with our teammates.
On Monday of the following week, the holder of The Higgie presents it to the Pepper that taught them the most significant thing the previous week. It's just one way that we keep learning top of mind, in all its forms.
It's an ecosystem, for sure, a responsibility of all. And what it leads to is one of the smartest teams I've ever encountered.
—Tim Padgett
Pepper Group's Core Values:
Choose to Be Challenged
Face to Face with Grace
Scraped Knees Teach Us to Dance
Be Smarter Tomorrow
Strength of the Wolf is in the Pack
Pride in Craft and Service
Work and Play with Passion
Initiative Has No Boundaries