Celebrating Our Core Values: Face to Face with Grace
At Pepper Group, our core values remind us of what's most important. They help us remember when it's time to take a deep breath, and when it's time to get down to business; how to support each other and our clients; and the value of teamwork and initiative.
In this series, we're asking Peppers to share a story that demonstrates one of our core values.
Today's guest is Brian, Pepper Group Design Director.
Brian's Core Value: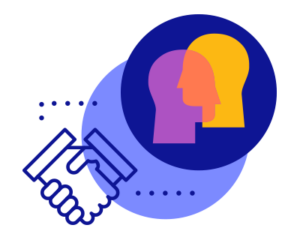 Face-to-Face with Grace
When you can, be there in person or turn on your camera for that video call. Emails are efficient and the phone can be fast, but conversations are clearer and more personal when you can look someone in the eye. They can feel your passion.
"Of all our core values, Face-to-Face with Grace is our most unique; it says a lot that personal interaction is infused into our corporate genetic code. On a daily basis, when considering the necessity of a meeting with a client or even with another coworker, I think of this value. Sure, we could send an email with a well-worded explanation but having a face-to-face meeting (or the online equivalent) is an opportunity to connect. We get to hear about each other's lives, like the great new restaurant they tried, where they went on vacation, how they got a new dog or all their latest wedding plans. And when we finish catching up, our clients get to hear the passion we have for what we do and the pride we have in our work, which is just a little bit better because we understand them just a little bit more.
"Our client TNS is a great example. Over the years, we have established a tremendous amount of trust with them that is now more like a partnership. Having frequent digital conference calls where we can talk and share personal stories to start each meeting has helped solidify that trust. They know who we are, and we know who they are, which has given us a certain professional comfort level with each other. Now we work almost as one team, not two separate companies."
—Brian Erickson
Pepper Group's Core Values:
Choose to Be Challenged
Face to Face with Grace
Scraped Knees Teach Us to Dance
Be Smarter Tomorrow
Strength of the Wolf is in the Pack
Pride in Craft and Service
Work and Play with Passion
Initiative Has No Boundaries