Celebrating Our Core Values: Face to Face with Grace
At Pepper Group, our core values remind us of what's most important. They help us remember when it's time to take a deep breath, and when it's time to get down to business; how to support each other and our clients; and the value of teamwork and initiative.
In this series, we're asking Peppers to share a story that demonstrates one of our core values.
Today's guest is Allan, Pepper Group Copy Director.
Allan's Core Value: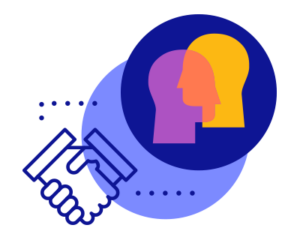 Face to Face with Grace
"I've been thinking of this value quite often for the last two-plus years when the pandemic significantly curtailed face-to-face meetings. We went from a typical five-days-a-week in-office experience to one that is mostly virtual. While we have the occasional work get-together, most of us only see each other on virtual calls a few times a week.
"To me, Face to Face with Grace doesn't only emphasize in-person client meetings, but coworker/internal meetings. It's been amazing that, despite working remotely, each of us is still able to connect with each other on a personal level. Sure, those connections are via text or a short phone call rather than walking into a coworker's office to shoot the breeze, but each interaction reminds us that we're not islands floating alone, but part of a greater ecosystem where we each rely on one another. Out of sight doesn't have to mean out of mind, as our last 28+ months have shown. Looking someone in the eye so they can feel your passion is important, but Face to Face with Grace also means making sure your passion comes through in every communication, however and whenever you communicate."
—Allan Woodrow
Pepper Group's Core Values:
Choose to be Challenged
Face to Face with Grace
Scraped Knees Teach Us to Dance
Be Smarter Tomorrow
Strength of the Wolf is in the Pack
Pride in Craft and Service
Work and Play with Passion
Initiative Has No Boundaries