Celebrating Our Core Values: Pack Strength
At Pepper Group, our core values remind us of what's most important. They help us remember when it's time to take a deep breath, and when it's time to get down to business; how to support each other and our clients; and the value of teamwork and initiative.
In this series, we're asking Peppers to share a story that demonstrates one of our core values.
Today's guest is Todd, Pepper Group Interactive Director.
Todd's Core Value: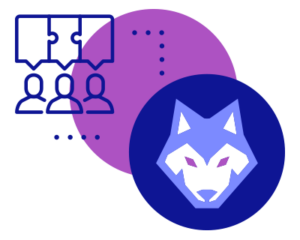 The Strength of the Wolf is in the Pack
Support each other. Teach each other. Protect each other. Respect each other. Surprise each other. Cover each other's sixes.
"I've heard stories from friends who have worked in environments where self-interests overshadow team objectives. I don't recall that happening once in my 23+ years at Pepper Group. Our collection of talented personnel is made up of innumerable individual skillsets, but there's not an ounce of hesitation joining in and doing whatever is needed to complete a project. Account managers dive in to help crop and upload product photos through the night for a website launching the next day; custom direct mail packages garner assembly-line treatment, with all hands on deck filling boxes with crepe paper, card inserts, and toy cars. It's so much easier to handle the pressures when you know that everyone has your back."
—Todd Underwood
The Pepper Group Core Values:
Choose to be Challenged
Face to Face with Grace
Scraped Knees Teach Us to Dance
Be Smarter Tomorrow
Strength of the Wolf is in the Pack
Pride in Craft and Service
Work and Play with Passion
Initiative Has No Boundaries