Celebrating Our Core Values: Pride in Craft and Service
At Pepper Group, our core values remind us of what's most important. They help us remember when it's time to take a deep breath, and when it's time to get down to business; how to support each other and our clients; and the value of teamwork and initiative.
In this series, we're asking Peppers to share a story that demonstrates one of our core values.
Today's guest is Amanda, Pepper Group Account Director.
Amanda's Core Value: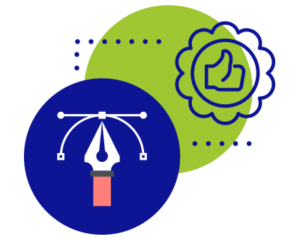 Pride in Craft and Service
Realize that we're in a pretty cool business. We take great pride in our work and find joy in connecting with our clients. Focus on building collaborative, respectful relationships, with an equal commitment to shared goals. Bring all your talent and expertise to the party. When you do, service comes naturally, success follows, and we all have more fun.
"For those who don't know, I worked at Pepper Group for two and a half years, left for a few years, and then came back. I have been back for almost three years, and one of the main reasons I returned was because of this specific core value. I am grateful to have a group of wonderful clients whom I have built strong personal and professional relationships with over the years. That makes it easier to laugh through chaotic times, together. On top of that, our team at Pepper Group is bursting with pride in what we do, and that always makes me excited to share our work. Pair that with a collection of clients who are collaborative, respectful and appreciative of us—and you've got a match made in marketing."
—Amanda Zindel
Pepper Group's Core Values:
Choose to Be Challenged
Face to Face with Grace
Scraped Knees Teach Us to Dance
Be Smarter Tomorrow
Strength of the Wolf is in the Pack
Pride in Craft and Service
Work and Play with Passion
Initiative Has No Boundaries