Celebrating Our Core Values: Pride in Craft and Service
At Pepper Group, our core values remind us of what's most important. They help us remember when it's time to take a deep breath, and when it's time to get down to business; how to support each other and our clients; and the value of teamwork and initiative.
In this series, we're asking Peppers to share a story that demonstrates one of our core values.
Today's guest is Jen, Pepper Group Senior Account Manager.
Jen's Core Value: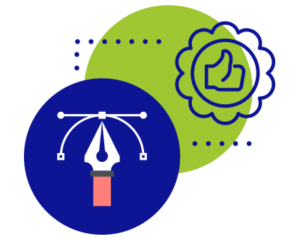 Pride in Craft and Service
Realize that it's a pretty cool business that we're in. Yin and Yang—the fun we have has another side and we need to do the hard things with equal verve. 
"I love this value because it's not just about doing a project to get it done, but truly caring about and delivering the best end results for our clients.
"I see this demonstrated every day throughout our entire team, collaborating to find the best solutions for our clients. More specifically, one of our clients, TmaxSoft, came to us with a problem. They were doing an extensive lead gen effort with another agency, but their number of leads had severely dropped. After they handed the reins over to us, we got started right away, working together as a team to address their problem and come up with a solution. We got the number of leads to increase immediately. The client was ecstatic with the results, and so were we. I look back at that project, and so many others, with a real sense of accomplishment."
—Jen Goebbert
Pepper Group's Core Values:
Choose to be Challenged
Face to Face with Grace
Scraped Knees Teach Us to Dance
Be Smarter Tomorrow
Strength of the Wolf is in the Pack
Pride in Craft and Service
Work and Play with Passion
Initiative Has No Boundaries