Celebrating Our Core Values: Scraped Knees
At Pepper Group, our core values remind us of what's most important. They help us remember when it's time to take a deep breath, and when it's time to get down to business; how to support each other and our clients; and the value of teamwork and initiative.
In this series, we're asking Peppers to share a story that demonstrates one of our core values.
Today's guest is Cindy, Pepper Group VP, Creative Director.
Cindy's Core Value: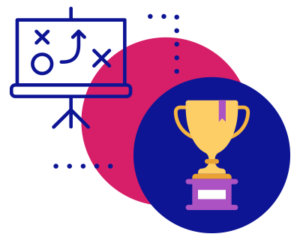 Scraped Knees Teach Us to Dance
Don't be afraid to fall down. Pick yourself up, learn, and try again. You'll soon boogie.
"One of the first projects I worked on at Pepper Group was creating a large poster for a client. When we got the printed samples, we noticed a typo (there was an extra letter in a word). Well, we immediately had it reprinted, but I felt awful. I mean, it was one of my first projects for my new agency! But Tim (our founder) took me aside and told me that it was OK to make a mistake—but we should always strive to avoid making the same mistake twice. Now I'm relentless in looking for typos, and why we always have multiple people check everything before it goes out. My scraped knee taught me how to dance … and proof." —Cindy Wojdyla
The Pepper Group Core Values:
Choose to be Challenged
Face to Face with Grace
Scraped Knees Teach Us to Dance
Be Smarter Tomorrow
Strength of the Wolf is in the Pack
Pride in Craft and Service
Work and Play with Passion
Initiative Has No Boundaries