Celebrating Our Core Values: Strength of the Wolf is in the Pack
At Pepper Group, our core values remind us when it's time to take a deep breath, and when it's time to get down to business; how to support each other and our clients; and the value of teamwork and initiative.
In this series, we're asking Peppers to share a story that demonstrates one of our core values.
Today's guest is Dee, Pepper Group Designer
Dee's Core Value: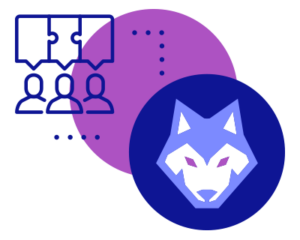 Strength of the Wolf is in the Pack
Support each other. Teach each other. Protect each other. Respect each other. Surprise each other. Cover each other's sixes.
"Agencies are always fast-paced, and while I love it, it also means work can be stressful, with lots of responsibilities for every team member. But when those responsibilities are shared across the team, work is not only smoother but more enjoyable. Knowing that there is 'strength in the pack' is motivating and encouraging, too. A win for one is a win for everyone on the team!
For example, very recently, the design team worked on a homepage design for our client, Schebler. Since we were creating two concepts to show the client, we worked together to share our progress during the design process, to make sure each concept was unique and the client would have distinct options to choose from. We also shared our concepts with Joe, our lead programmer, to make sure that all the functionalities were feasible in the programming phase. It was truly a team effort."
—Daeun Lee
Pepper Group's Core Values:
Choose to be Challenged
Face to Face with Grace
Scraped Knees Teach Us to Dance
Be Smarter Tomorrow
Strength of the Wolf is in the Pack
Pride in Craft and Service
Work and Play with Passion
Initiative Has No Boundaries