Celebrating Our Core Values: Scraped Knees Teach Us to Dance
At Pepper Group, our core values remind us of what's most important. They help us remember when it's time to take a deep breath, and when it's time to get down to business; how to support each other and our clients; and the value of teamwork and initiative.
In this series, we're asking Peppers to share a story that demonstrates one of our core values.
Today's guest is Jessie, Pepper Group VP, Director of Strategy.
Jessies's Core Value: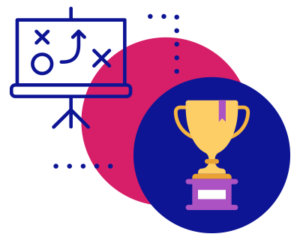 Scraped Knees Teach Us to Dance
Don't be afraid to fall down. Pick yourself up, learn, and try again. You'll soon boogie.
"I love this Core Value because I think it's refreshing and wonderful for a company to tell you that things aren't always going to go perfectly, and that's okay. What matters most in those situations is how you respond and apply what you learned because that's what makes you stronger and better going forward.
"Many years ago, when I was fairly new to Pepper Group, I had my first experience losing a client. It wasn't because of anything we did wrong—the company got new marketing leadership who wanted to bring in an agency they'd worked with before—but I felt like, as the account lead, I had failed. Tim (PG's co-founder) called me into his office, and I thought, 'Here we go. I'm in trouble.' But what he said was, 'I know this is a big disappointment. If you're going to feel bad about it, take 24 hours and feel bad. Then think about how we will find our next great client.' It was the perfect bandage for my banged-up knees. And you know what? I've gone on to work with dozens of really great clients!"
—Jessie Atchison
Pepper Group's Core Values:
Choose to be Challenged
Face to Face with Grace
Scraped Knees Teach Us to Dance
Be Smarter Tomorrow
Strength of the Wolf is in the Pack
Pride in Craft and Service
Work and Play with Passion
Initiative Has No Boundaries